Quiltcon 2016 Award Ribbons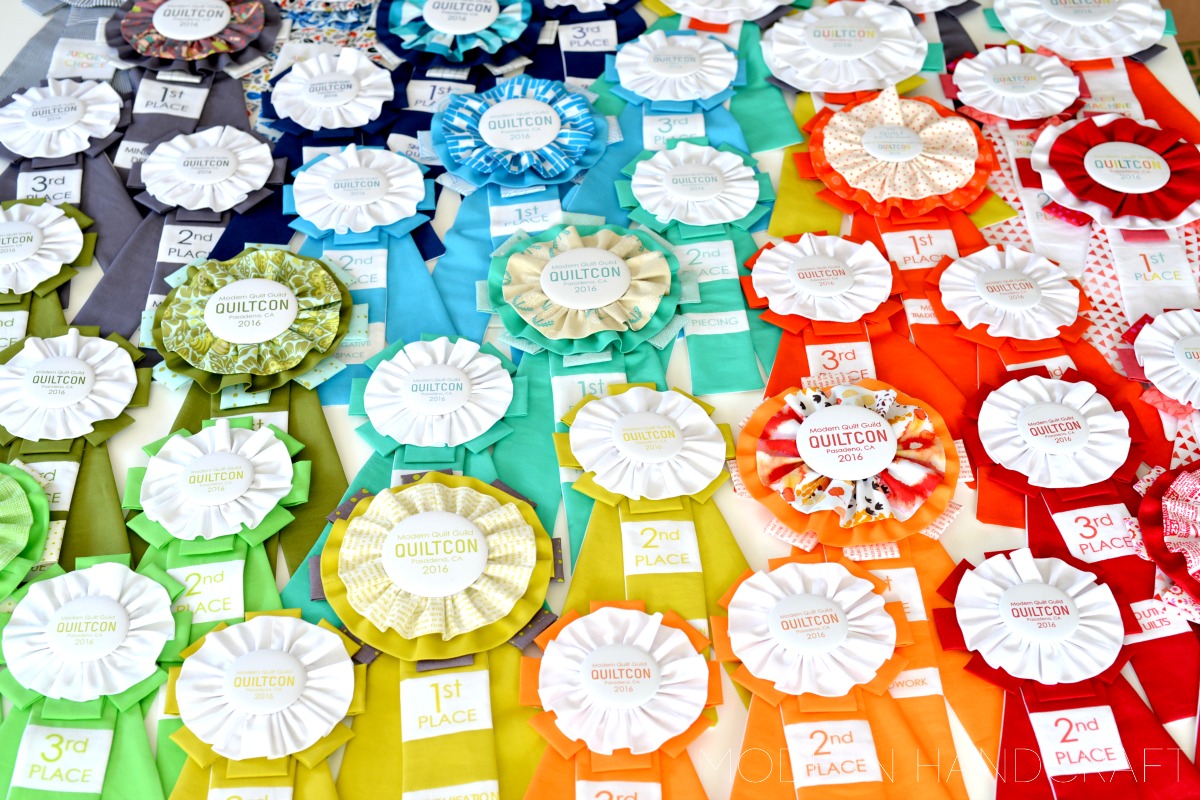 Some of you might have noticed a little hint of an award ribbon the past couple of weeks over on my Instagram account. On Thursday after the awards ceremony I was finally able to share what I had been working on so hard for the past month! It was an honor to make the awards this year, the previous years were just perfect and I wasn't really sure if I could pull it off. I was super thankful to the Modern Quilt Guild for this opportunity and I hope you enjoy the pictures of the ribbons for each category including best in show!
Going by the color chosen for each category - or what was printed on the Spoonflower placing and category labels - I decided to stick with solid fabric choices with a pop of coordinating fabric on the first place winners to jazz it up a bit.
Best in Show
Hello hexies! They gave me the freedom to add my own little spin on them this year, along with the asterisk type fold-over behind the rosettes the Best in Show has the added Modern Hexie's matching the modern quilt guilds color scheme.
Judges Choice
For the Judge's choice awards I wanted to stick with each judges particular style. These were the most fun and most challenging to make.
A big thank you to Cloud 9 Fabrics for the beautiful fabrics for Lisa Congdon's award ribbon. I wanted to stick with her own fabric designs and I think although a bit busy to most eyes, this one really was a favorite of mine.
Cheryl Arkison's ribbon was a nod to her awesome improv style using some of the solids from the other ribbons.
For Scott Murkin's ribbon I was a little worried on what to do. After a little research and reading an article he wrote about his love of stripes I knew instantly what to do.
Best Machine Quilting Frameless / Framed, People's Choice and Freespirit Award of Quilting Excellence
Michael Miller Fabric Challenge / Glitz fabric
A big thank you to Michael Miller Fabrics for the beautiful assortment of Glitz fabrics for the Glitz Challenge quilt category.
EZ Quilting Triangle Challenge
I had a little fun with these, isn't the triangle fabric just perfect?!
Handwork
Minimalist Design
Small Quilts
Modern Traditionalism
Use of Negative Space
Appliqué
Youth Quilts
Piecing
Improvisation
Group Quilts
Whew, so many ribbons right?! I am in the process on writing up an instructional pattern on how to make these, with options for rosette layers and the fun asterisk folded background so you can make them for any occasion you need to give an award!
Thanks for stopping by today friends!
-Nicole