Fabric Spool Keychain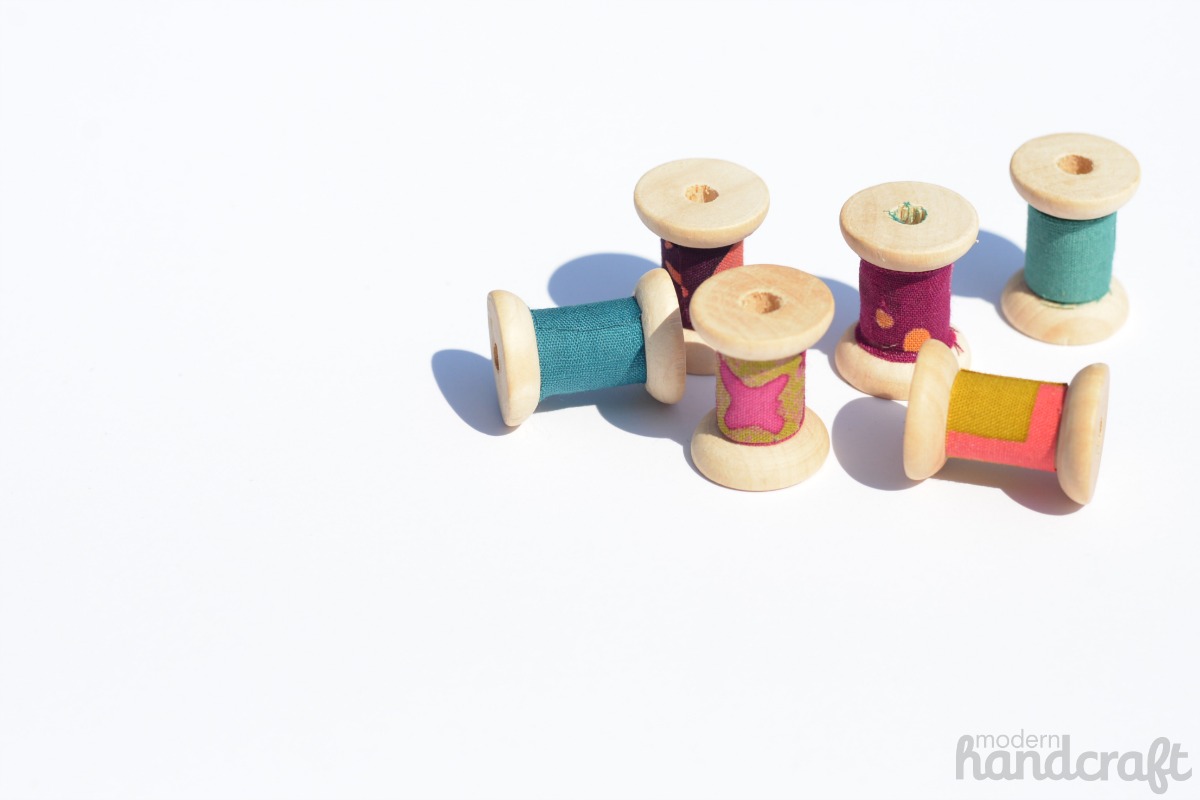 Hi friends, I am here today with a sewing project that requires no sewing at all - The Fabric Spool Keychain. These are quick, a great gift for fellow sewing friends and a great craft to make with the kids! Do you have a sewing project that you finished and had some tiny scraps left over that you cannot bear to throw out? Well this is a perfect project for that! Materials needed:
Assortment of small fabric scraps (fabric shown is Handcrafted by Alison Glass for Andover Fabrics)
1/8" Leather Craft Lace - small packages are usually 2 yards and under $4
Small Wooden Spools (size shown is 3/4" x 1")
Key Chain (with hook attachment optional)
Step 1:
Cut a strip of fabric the same width as the spool (where the thread should go). Make it at least 3 inches long so you can wrap the fabric around the spool a couple of times - this ensures that the color is correct and not dulled by the lightness of the spool underneath.
Apply a thin layer of your fabric fuse to the end of the fabric - use a paintbrush or your finger to spread the glue covering the entire end like shown above. Press down and let the glue dry.
Make as many spools as you like! I chose to use 2 per keychain but you can make it a little more festive if you like. How cute would these be as a garland in your sewing space?
Step 2:
You will now need to cut a piece of your strap to about 10" - 12" long.
Fold your leather in half and loop through your key chain hoop leaving a circle of leather out.
Take the loose ends and thread through the circle.
Pull on the loose ends and you will now create the knot that will keep your leather straps in place.
Position your spools on the leather strap where you would like them. It helps to stagger them so your keychain will not end up bulky in one area.
Make a knot right underneath each spool and cut the ends, leaving just a bit for decoration.
Congratulations you are finished!
So many other creative uses - Find smaller spools and create custom fabric spool zipper pulls or decorate a handmade bag or purse for a little flair.
I hope you enjoyed today's project - thanks for stopping by!
-Nicole