Sew as you go Easter Pillow // A Tutorial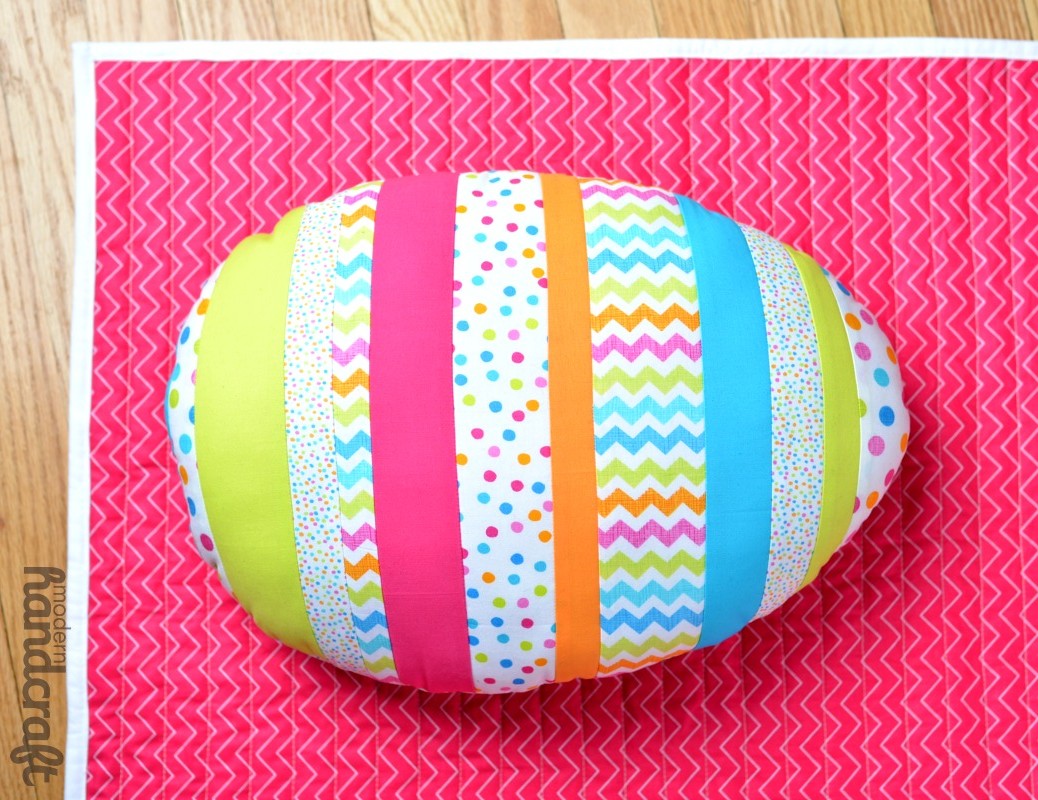 Hi friends, I have a fun tutorial for you today that was first featured on the Therm O Web blog - a quick sew as you go project just in time for Easter! This will make a fun addition to your children's Easter basket as well.
Materials needed:
Therm O Web Fusible Fleece
Colorful fabric strips measuring at least 15" wide
Fat quarter of fabric or fabric measuring 15" x 20" for backing
1 16 oz. package of Polyester stuffing
Brown bag or wrapping paper to make your pattern
Sewing Machine & notions (coordinating thread, scissors, needle)
Step 1:
Cut strips ranging in thickness for your Easter Egg stripes. Just make sure that they are at least 15" wide, cutting from fat quarters you have in your stash is an easy way to create these.
On a brown paper bag or wrapping paper draw an oval or egg shape measuring 20" tall and 15" wide. Cut out your egg pattern and pin or trace the shape on your Therm O Web fusible fleece. You will need to cut 2 egg shapes from your fleece and also 1 egg shape from your backing fabric.
Step 2:
To begin your stripes, place a strip across the front of a piece of the fusible fleece. There is no need to pin this down.
Now you will take a second strip of fabric and lay it face down on top of your first piece like shown. Make sure that the edges meet where you are going to sew. Sew down the side where the two fabrics meet with a 1/4" seam allowance.
 Fold the second strip back and smooth back with your hand.
Keep adding strips and sewing. When you make it to the end, flip the egg around and start from the middle out the exact same way to complete the other side.
Step 3:
Clean up the edges of your Easter egg with your scissors. Take your egg backing fabric and iron to your Therm O Web fusible fleece.
Lay your Easter Egg front face down on your Easter Egg backing and pin around the edges like shown.
 Stitch around the edges of your Easter Egg leaving a 4" opening at the bottom.
 Turn your pillow right side out through your 4" opening at the bottom of the egg.
I like to iron my Egg pillow before stuffing. When done stuff with your polyester stuffing and stitch the opening closed.
You are finished! Now time to hide this in your child's Easter basket or hide in the big Easter egg hunt as the grand prize egg!
-Nicole