Valentine's Day Project // WIP Wednesday
Hi friends, I am right in the middle of making some fun Valentine's day goodies for my shop and wanted to share some of the progress with you all today!
I tend to start crocheting as soon as it gets cold out so many of my projects for the winter months have some sort of crochet element thrown in. Granny Square crochet is a new pattern I have tried out and I am so addicted! You can find many great tutorials on YouTube showing you how to crochet and even the granny square pattern I am using in my projects.
Here are some sneak peeks of some fun pillows I am making to sell, one a crochet pillow and one that you will see more of on January 6th over on the Sizzix blog....hint hint, there will be a tutorial for that one :)
I am also working on some fun zipper pouches and other treats available soon that will make cute additions for your loved ones.
There are some fantastic bundles available from my sponsors that would make the cutest Valentine's day pillows and quilts!
Fort Worth Fabric Studio has the perfect bundle : Aqua Red Crush - you cannot go wrong with red and aqua!
I also love this Ta Dot bundle from Michael Miller, full of fun pinks and reds - I can see this paired with a crisp white in a HST pattern for pillows or a cute throw quilt on the couch.
This last one is just the most perfect Valentine fabric EVER! Valentine Roses and Doilies from Free Sprit... this would just be so cute for a little girl's dress don't you think?
Over at FabricCadabra I played around with some of the fun fabrics they have available and came up with this little combo that I just love! The pops of citrus really shine against the pink and fuschia colors.
From left to right: Follie, Korket in Berry Fuschia / Follie, Follie in Buttercup Yellow / Mystic Aura Fields, Rhapsodia Sweet Journey / Plentiful Earth Saffron, Picnic by the river, Meadow / Far Far Away, Unicorns Purple / Veiled Scarletts, Luminescent / Mustang in Pink by Melody Miller / Thru the Wire, Priory Square
The girls at FabricCadabra also have the best bundle... Berry Basics by Cotton + Steel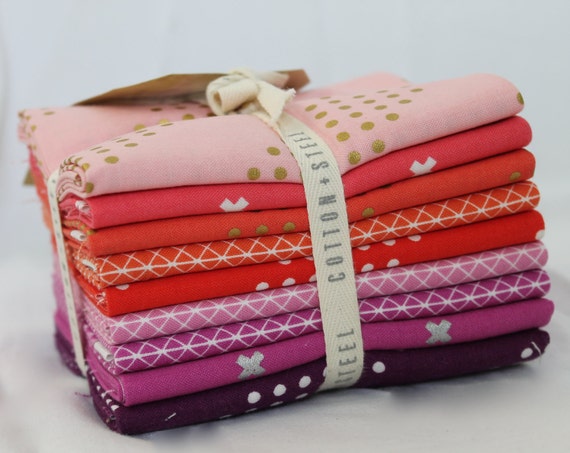 Hope you all have a fantastic New Year's Eve, looking forward to all this next year brings - let's make it our best yet!
-Nicole