Modern Hexies // Pleather Applique Pillow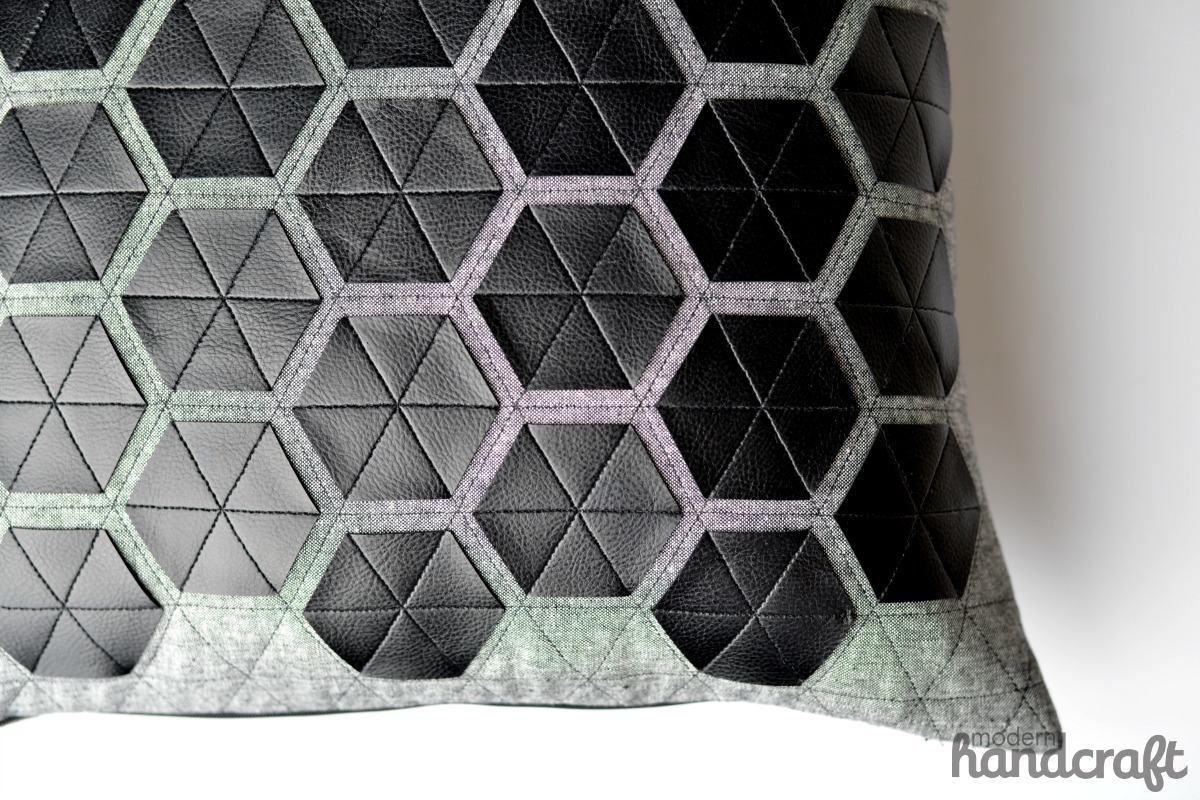 Hi friends! Today I am sharing another Modern Hexie project but this time with a different material - pleather! I also have a discount code for my Modern Handcraft readers who are interested in adding a Sizzix to your sewing and crafting room (code: SZ11B).
Pleather can be found in most fabric stores or online and it is a dream to work with on my Sizzix Big Shot. This takes the same basic method of applying the hexagons with glue like in my other tutorials but without the english paper piecing, in other words...it is much faster and makes for a very stunning effect.
All Modern Hexies are proudly made with Aleene's Fabric Fusion Permanent Fabric Adhesive 4oz
a permanent fabric glue that I trust on all of my projects!
(Amazon Affiliate link)
This finished pillow measures roughly 17" x 17" and has a zipper, but you can finish your pillow off with any method that you prefer. I used a feather 18" x 18" insert from Ikea for the photographs.
Materials used for this project are:
Step 1:
You can begin by cutting your piece of pleather into 5.5" strips - this is the perfect width for your Sizzix die and will fit through the machine easily.
I was able to layer 2 pleather pieces to cut the hexagons out a little faster.
For my 18" x 18" pillow I cut out a total of 38 hexagons, depending on the size shape you use - you can have more or less.
Step 2:
Iron your Fusible Fleece to the back of your pillow front fabric. This adds a nice cushion to the pillow and also absorbs any excess glue from the hexagons. Fold your fabric square in half to make a crease, this is what you will use to line up your first row of hexies.
 Continue laying out your hexagons in your desired layout.
Give yourself about an inch around the entire pillow of just fabric.
Starting from the middle or one side pick up each hexagon and draw a thin line of glue around the edges on the backside. Stick to fabric, once all are glued down leave to dry for a couple of hours. The glue I am using is Aleene's Fabric Fusion Permanent Fabric Adhesive 4oz
Step 3:
At your machine, quilt across your pillow front using the points of your hexagons as a guide. I find that using a walking foot over pleather is much easier than a regular sewing machine foot.
Once you are finished with your quilted pillow top, finish off your pillow in the manner that you enjoy most. I usually do an enevelope backed pillow but decided that this time a zipper would be fun, especially with a nice black zipper.
Here are some images of the finished pillow! Please make sure to add your projects to our Modern Handcraft flickr group!
As always if you have a fun project that you have created with a Modern Handcraft tutorial please share it with us over in the Modern Handcraft Flickr group!
Thanks for stopping by friends!
-Nicole